It's Thursday! Which means it is time to share a Dirty Little Secret hosted by
Under the Covers
. This is an opportunity for fellow romance book bloggers and romance reader fans to share in some fun in order to get to know one another a little better.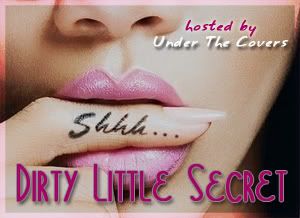 Question - (it's not really a question this week; but...)
Tell us who is in your harem of deliciously sexy book heroes.
My answer:
Bones (Night Huntress Series by Jeaniene Frost) - Sorry, Cat. I'm gonna have to fight you for him.
Jacob (Nightwalker Series by Jacquelyn Frank) - A little demon action never hurt anyone. Just sayin';
Jace (Mortal Instruments Series by Cassandra Clare) - A little cougar action for a little spice;
Curran (Kate Daniels Series by Ilona Andrews) - Just plain, grrr!
Quinn (Riley Jenson Series by Keri Arthur) - Vampire lurvin' can be kinda pervy and continuous;
Charles (Alpha & Omega Series by Patricia Briggs) - Loyal werewolf lurve - yum!;
Thomas (Elemental Witch Series by Any Bast) - Witchy, alpha, sexalicious man;
Leo (Gray Court Series by Dana Marie Bell) - need some Faegasms;
Adam (Mercedes Thompson Series by Patricia Briggs) - one smexy, smexy wolf
Vlad (Night Huntress Series by

Jeaniene

Frost) - there is just something about that vampire...

Now your turn to share.