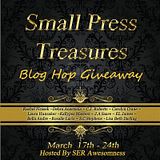 Welcome to the Small Press Treasures Blog Hop Giveaway
hosted by

SER Awesomeness
Bona Fide Reflections is featuring:
Sempre by J.M. Darhower
I am posting the book blurb and a Bona Fide Review of the book, as well as giving away a copy of the book plus a $5 gift certificate to B&N, Amazon, or the Book Depository to one (1) lucky winner. All you have to do is fill out the Rafflecopter to enter the giveaway.
Sempre Book Blurb:
This is a story about sacrifice... death... love... freedom. This is a story about forever. Haven Antonelli and Carmine DeMarco had vastly different childhoods. Haven, a second-generation slave, grew up isolated in the middle of the desert, her days full of hard work and terrifying abuse. Carmine, born into a wealthy Mafia family, lived a life of privilege, never having to answer for anything he did. Both now seventeen, a twist of fate causes their worlds to collide, making them question everything they ever believed.
Entangled in a web of secrets and lies, they learn that while different on the surface, they have more in common than anyone would think.
In a world full of chaos, where money and power rule, Haven and Carmine yearn to break free, but a string of events that started before either were born threatens to destroy them instead. Murder and betrayal are a way of life, and nothing comes without a price-- especially not freedom. How much will they have to sacrifice? Can they escape their pasts? And, most of all, what does it mean to be free? Not everything is as it seems, and no one can possibly come out unscathed, but maybe, just maybe, it'll be worth it in the end.
Excellent Reading!
Sempre by J.M. Darhower is an powerful, outstanding story that covers the gamut of the human condition while being a very sweet love story between two young adults whose lives have not been easy and have been emotionally traumatized. Haven Antonelli is brought into the DeMaro household as permanent housekeeper under the direction of Carmine's father after extricating her from a very atrocious situation.
As time goes on Carmine and Haven develop a steadfast relationship that is all about two different, yet not so different worlds, coming together and deeply affecting each other by healing each other's past and present emotional wounds. In addition, the ties she develops with Carmine's brother, father, and friends assists in her metamorphasis into a very confident, lovely young woman from the scared person she was after the trauma she endured in her younger life of true slavery.
The story that unfolds is gripping and perceptively emotional, yet moments of sweetness take over the depth of the story. A quality that softens the seriousness of the circumstances. Plus, ties to the mafia add to the intensity of the story as well as the family connections that are discovered that bind the young couple even closer to each other and binging them together forever (sempre). As the novel unfolds, the reader will excitedly find themselves turning the pages or hitting the forward button on their e-reader.
J.M. Darhower writes with skill, purpose, and depth. This is one of the best stories of contemporary romance that I have read in a long time.
Happy Reading from Bona Fide Reflections!!
a Rafflecopter giveaway
Now, please go check out the other wonderful blogs and giveaways: